Discover more from Multimodal by Bakz T. Future
Multimodal AI, GPT-3 projects, creativity, research, and ideas
How to Build a Startup Monopoly with GPT-3 (20 Techniques)
Techniques to Compete in AI based businesses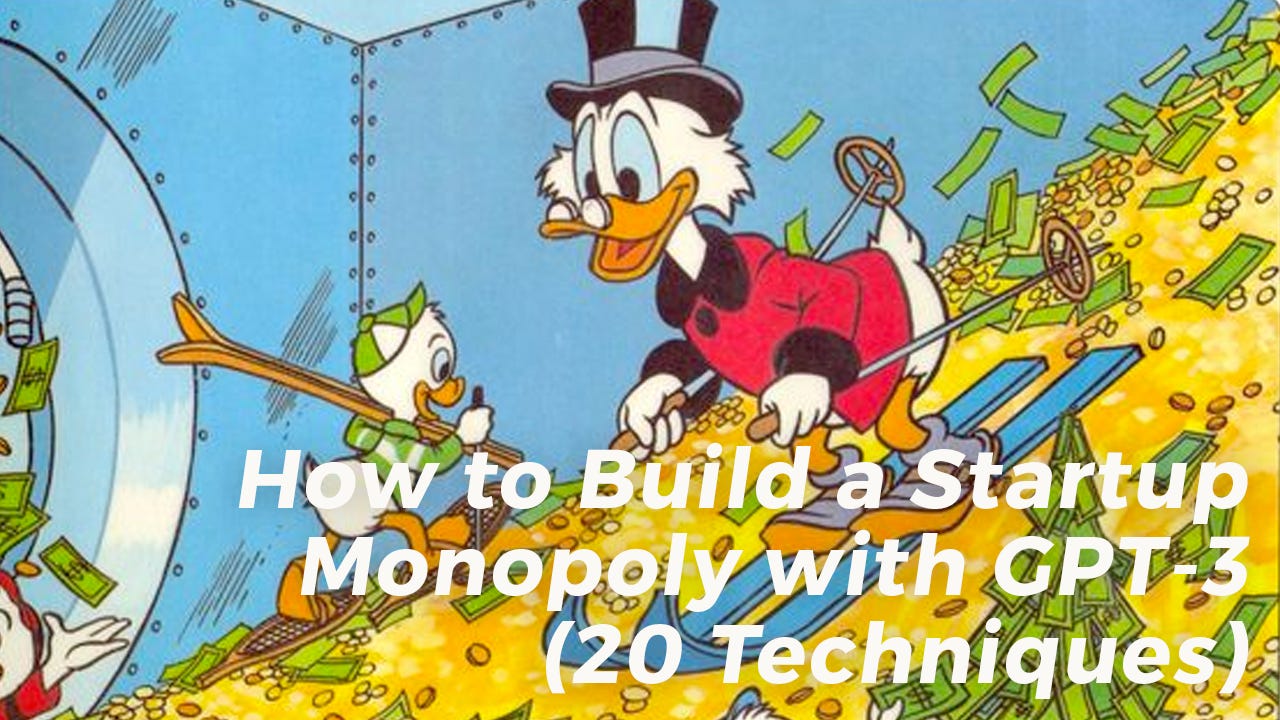 GPT-3 is awesome! Yeah!
It's very promising. So many startup companies could be built on top of it this decade … maybe even your own!
However, if you're thinking about this, I have a question for you: if other smart people just like you can access its API, should you really build your entire company around it? This is mostly a personal question, maybe even a technical one, but I'd like you to really think it through as an important competitive business strategy question too.
This question is important. If you don't think it through, here's some assumptions I have about what might happen to your business:
If you are building a business/startup, you likely believe in what you are doing - that it will be valuable

If what you make turns out to be valuable and/or generates money, it's safe to assume others will try to compete with you to also capture some of the value or make some of the money too

If you are competing against other companies built on top of GPT-3 just like you, they will likely be able to offer roughly the same product in your space with similar customer outcomes (or in this case, GPT-3 API outputs)

Once other companies enter the space, how will you ensure your existing customers stay loyal to your startup and not go over to your new competitors? At that point, how will you compete? Is it basically a price war and then a race all the way to the bottom?
If you accept that competition for your future startup is an absolute reality and would like a fighting chance to compete effectively, I wrote this piece brainstorming some competitive techniques just for you and I encourage you to keep reading.
Before I Begin: A Brief Startup Founder Intervention
First time startup founders tend to be very optimistic and tend to not really think things through. They're too idealistic, and certainly biased because they believe so strongly in their startup. In this section, I am going to dispel some incorrect assumptions you might already have to get you to take my question I raised earlier as well as the competitive techniques I suggest later on more seriously.
The first thing to realize is that GPT-3 or GPT-X (future versions) are not monogamous AI services. It might feel intimate to you when you're talking to it personally in chat mode and it might also feel exclusive to you now because you have early access, but you're not the only one it's available to. Many people already have access to it and are able to get it to do the same things as you. It only takes one to three examples to get GPT-3 to do stuff (for the most part), so there is very little upfront investment required to likely clone or reverse engineer what you already have. So, please accept this reality before your lunch gets competed away. Please don't fall in love with AI thinking it's monogomous like this guy: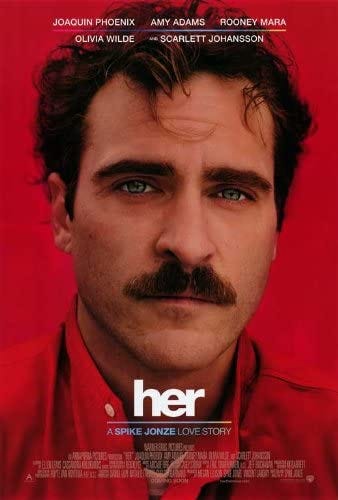 Please accept that others can also use it and that integrating it within an existing app isn't a big deal. I'm sorry, but using it inside of an existing web or mobile application is not a technical achievement at all. It's mostly like integrating any other API like Twilio or Stripe or something, with some newer (but mostly minor) challenges like handling streaming information from the OpenAI API.
Furthermore, accept that most people will eventually get access and be invited to GPT-3. Yes, this is a fundamentally good thing for society - but if you've already created your whole business with GPT-3 based artificial intelligence at its center, this is not good news for you. It doesn't help that GPT-3 does not have a steep learning curve like other programs and that even people outside of tech can start utilizing it immediately pretty effectively.
Moreover, GPT-3 and GPT-X in the future are not the only language models out there. GPT-2 is already publicly available now, for free. I think it's fair to say many more large scale language models like GPT-3 will be released this decade. Perhaps, our understanding of designing more effective learning models may also improve, which will create even more alternatives to OpenAI's GPT-3.
Also, a more radical idea - you really need to start seeing GPT-3 as something more like a utility like AWS Cloud Services or your local hydro company. Everyone in the jungle will (eventually) also feed from this same river, so it's inherently risky to base your entire business around it because they'll realize pretty quickly where the water is coming from.
Most importantly, accept that nothing is stopping smaller startups (with nothing to lose) or even larger companies from starting competing startups/products of their own (or even bundling in your entire startup for free), built on top of the same OpenAI GPT-X technology.
This section ends where we began. So, I'm going to repeat myself in hopes it will stick, please think this through:
if other smart people just like you can access the GPT-3 API too, should you really build your entire company around it?
The Big List of GPT Startup Competitive Techniques (Overview)
Now, I'm going to assume that you have accepted the reality of your inevitable competition. Hopefully, you are realizing that building a startup entirely around GPT-3 is inherently risky because you are basing your core technology on something more akin to a publicly available utility like water, cloud services, or your local hydro company.
At this point, I hope you have started to realize you might need to think more deeply and strategize about how you will start a truly competitive organization instead. Maybe even, to some extreme, you're realizing you should strive to create a monopolistic one.
In this regard, I have brainstormed a list of competitive techniques to help you obtain a monopolistic status even though your company is built with GPT-3 at its core.
I'll be honest, many of these techniques I'm going to suggest are many of the classic competitive edge / moat / monopolistic approaches (read Zero to One by Peter Thiel), but in this piece I'm going to explain them in a GPT-3 context, as well as share some of my own ideas. Below, you'll find the list of GPT-3 competitive techniques:
---
Sorry for the interruption, but I was going to make a video on my YouTube channel exploring this topic, actually. I will do so in the future but really wanted to just get my thoughts out for now to kick start the discussion here.
My last video on my channel was on GPT-3 giving me a literal identity crisis and it was a lot of fun to make and share:
If you like what I'm saying here please consider not only subscribing to this newsletter but also my YouTube channel as well. It's the best way to support my work and let me know you found it interesting or even entertaining. Thanks! Anyways, where were we?
---
Without any further ado, here is the big list of monopolistic GPT-3 competitive techniques (in no particular order):
Compete on Great Product Design

Exploit First-Mover Advantage, Capture Market Share Rapidly

Find a Niche

Compete on Cost Effectiveness

Win with Economies of Scale

Create a Global Brand

Create a Vertically Integrated, Supply Chain Monopoly

Integrate deeply into your customers' organizations

Monopolize Critical Communication Channels

Monopolize Local Geographies

Utilize annual, multi-year contracts and pricing

Create an app ecosystem

Lobby and develop legal frameworks, industry quality standards in your favour

Create Network Effects, Build Communities

Discover New Prompts (Unique Secret Recipe)

Create Complex Prompts that "talk to each other" ie. Compete with a Complex, Secret Software Architecture

Combine GPT-3 with other Proprietary Technology

Patent your technology (sorry about this one)

Don't tell people you're using GPT-3 at all

Appeal to Consumers' Psychology and Form 1:1 Relationships
Competitive Techniques (in depth)
Now I'm going to explain them some more:
Compete on Great Product Design
Example: Notion.so , iPhone, Herman-miller Aeron chair

Great product design is compelling. If your product is well thought out and a delight for your users, you may be able to get by with having GPT-3 as your core technology. However, the bar for great design is really high here. What you make must be so great, that it is absolutely the best way to interface with the GPT-3 API for your product use case and also something difficult for someone else to clone. Likely, my hunch tells me, the design would have to be pretty iconic … which is no easy feat.

Exploit First-Mover Advantage, Capture Market Share Rapidly
If you do have early access to GPT-3 and are looking at an old-school industry largely unaware of this leap in progress, another strategy is to seek as much market share as possible and capture it quickly. Once you have obtained this market share, if you have high enough switching costs and a rigorous customer retention strategy, you may be able to back your competition into a corner where they can't offer anything compelling enough to steal your customers.

I'm not the biggest fan of this technique, because I generally think it's not good to underestimate your future competitors. They will likely compete with you on dimensions different from the ones your product offers (dimensions that you simply cannot foresee now), and incentivize your existing customers to switch in clever ways. Regardless, this still might be a viable strategy if executed thoughtfully.

Find a Niche
Example: specific blog for a niche topic within your industry
Maybe the best way to monopolize with GPT-3 is just simply to say small. Create something so small, and so specific that the vast majority of people simply won't hear about it or even care to compete you for marketshare. Maybe you can get by with a couple thousand dollars of revenue a month, or perhaps no money at all. For example, with GPT-3 you could create super niche blog (by having GPT-3 generate thoughtful content for you and then you could make money from affiliate links), work to get it to rank very highly on specific keywords on Google, and relax knowing you entirely own your tiny piece of internet riches.

Compete on Cost Effectiveness
Example: Ramen Noodles, Sriracha, In-N-Out Burger

I mean this strategy in two ways. In the first way, you don't innovate and improve your product every year. Instead, you find ways to reduce your costs every year. This way, annually, you make more profit by simply becoming more efficient. Eventually, your efficiency and cost effectiveness will be innovative in its own way and give you a significant advantage over future competitors. If you can get your price far lower even than market rates, eventually, it might not be feasible for your competitors to enter and compete with you in the first place unless they are willing to lose a lot of money upfront. This can work for a company like Ramen Noodles, but I suspect the GPT-3/AI/Startup version of this is actually controlling your cloud expenses, operational effectiveness, as well as your sales and marketing scope/budget.

I also mean this whole cost effectiveness technique in another way. Well, everybody knows how much GPT-3 costs, the pricing is public. Another approach might be to build your startup in such a way that you get all your other expenses so low and have enough saved in reserve that you can effectively wage a long-term price war with any new competitors which pop up until they can no longer afford to pay the price of the GPT-3 API itself (war of attrition). This would be wild though and I don't recommend this second approach.

Win with Economies of Scale
Example: Utility such as a water company
This one is pretty straightforward. If your product/service benefits from large scale manufacturing or distribution, you can own your market by making the most stuff, investing in your infrastructure/manufacturing capabilities, getting exclusive bulk rates from your suppliers, and being able to offer product price points no other competitor can afford.

I'm struggling to come up with a GPT-3 related example of this, but my hunch is you could do this if you were bundling GPT-3 along with some kind of physical, mass-market product.

Create a Global Brand
Example: Casper Mattresses, Coca-Cola
Like most people in the tech industry, I am skeptical about branding too. However, it is for sure a real phenomenon.

Imagine if Grammarly used GPT-3 … maybe they already do. They are so publicly well known at this point as a household name, it would be really hard to compete with them. Likely, you'd have to spend a lot (like, a lot) of money in mass market advertising, just to the get the word out and be known as #2 to Grammarly.

Create a Vertically Integrated, Supply Chain Monopoly
Example: Amazon

Amazon doesn't just list books on its website. It delivers them to your doorstep through its driver network, it has warehouses, and it even has Amazon Prime airplanes now! This sort of vertical integration allows them to be more efficient, save money, and also makes it hard for others to outright compete against them.

Taking inspiration from Amazon, one could start by creating a GPT-3 based startup, but begin to expand their business stack above and below. This means owning the distribution channel, owning your own media communication channels, and even being your own supplier. It would be really different in a GPT-3 context, but still achievable and a viable competitive technique.

Integrate deeply into your customers' organizations
Example: Salesforce, most enterprise software
Some easy layups in the software world is to integrate your product into a large organization's single sign on system (SSO). If you can find other ways to integrate your GPT-3 startup deeply in customized ways, where the customer has to put in significant work/investment to use your services too, this might actually spare you in the long run from upcoming competitors.

Monopolize Critical Communication Channels
If you can find a way to rank very highly in marketing communication channels like web search, it's possible to own an industry's primary way of bringing in new customers. In this case, however, your business would need to be really dependent on a particular marketing channel for growth.

Monopolize Local Geographies
Example: family motel in remote location
Do you live in a small town? Why not offer specific GPT-3 services such as content writing or creative feedback for your neighbours and people nearby? Sure, you likely won't become a billionaire this way, but there's value in staying small and owning a big piece of a market, even if it's a smaller one.

Utilize annual, multi-year contracts and pricing
Examples: enterprise software, Plex Lifetime, Roam Lifetime "true believer" plan
Another way of monopolizing is to lock in your customer base on really long term, binding contracts with significant penalties for leaving.

Alternatively, you can offer a "lifetime plan" which is common pricing strategy in the software world, where people pay $500 or something to have access to your product forever. You get to make the money upfront for a longer term and they likely get a discount for being loyal that way. At the same time, I suspect even getting your customers to sign up for an annual plan or multi-year one could prevent them from going over to one of your competitors. This might be more suitable so that you're not stuck footing the bill for a whole lifetime of GPT-3 OpenAI usage.

Create an app ecosystem
Examples: Windows, Google Play Store, App Store
It's no surprise that one of the biggest reasons people don't switch over from Android or iOS is because they have rich developer application ecosystems. I'm personally reluctant to switch over to a new phone operating system, unless I can access the same apps I already use, some of which are critical to my daily routine.

The GPT-3 version of this would tricky, but basically, you would have to convince other developers to build on top of your existing GPT-3 application by giving them access to an exclusive customer base you already have and meaningful profit incentives. Afterwards, since you're basically a platform now, someone else coming along in the future would need to offer both sides of the market (customers + developer created apps) in order to compete with you.

Lobby and develop legal frameworks, industry quality standards in your favour
This one is really exciting and I believe it has potential in a GPT-3 context. Imagine you could get your GPT-3 tool for journalism endorsed officially by the Associated Press, or integrated legally into known journalism frameworks and/or even the legal code. By creating legal structure, industrial standards, or getting endorsements from important professional organizations, you could gain a competitive edge and limit other companies from just being able to step in. In fact, you might get serious lock in from very risk-averse companies who would prefer working with long-standing, established services with serious compliance rigour.

Create Network Effects, Build Communities
Examples: Facebook, Quora, Hacker News

I struggle to envision a social network built around GPT-3. However, it's certainly possible and I would love to see one. Building a community or social network around your app would give you lock in because it would be difficult for someone else to convince so many of your customers' friends to also switch over. Often, your customers might just stick around for the community you built and connections they've made along the way while using your product. This is something which would be very difficult for your competitors to match, creating a true competitive advantage.

Discover New Prompts (Unique Secret Recipe)
Example: Coca-Cola secret formula, KFC fried chicken recipe
In this case, you would create advanced or largely unexplored kinds of GPT-3 prompts. Perhaps, you could even make a prompt so unique that nobody could figure out how it works and how to replicate it, even though they know you use GPT-3. This would be incredibly impressive, however, I don't know how you could make such a prompt besides giving it proprietary kinds of examples/data that only you know about.

Create Complex Prompts that "talk to each other" ie. Compete with a Complex, Secret Software Architecture
This is a new kind of technique I'm proposing which is more of an "architectural competitive advantage". The main idea is you create a whole web of GPT-3 prompts that work in a secret, specific order that only you know about, creating new capabilities through GPT-3. This would be very costly from an OpenAI API standpoint (paying per request and per token) and I struggle to think of immediate examples. However, I can envision using GPT-3 over several API endpoint requests to filter, summarize, apply various transformations to some kind of input data, ultimately creating a totally new kind of output which is hard for others to replicate.

This is a tricky frontier from a technical perspective due to the current limits of GPT-3. For example, it would take so long to complete multiple GPT-3 requests in sequence or unison, so the user would be waiting a long time for a response (probably 10+ minutes). At the same time, GPT-3 isn't reliable enough per request to give you a consistently formatted response. Imagine how much the unreliability would snowball over a series of requests. However, I still think such a complex architecture is possible.

I've never heard of architecture being used as a competitive advantage in the software world before (besides maybe computer chips), but in this case, I'd love to see it happen. Although people in software spend a lot of time talking about architecture, very rarely do we actually take it seriously and push it to its full potential.

Combine GPT-3 with other Proprietary Technology
Imagine combining GPT-3 with some specific kind of scientific instrument, computer chip, or hardware device you made. Imagine integrating GPT-3 (somehow) with some kind of proprietary fabric you've developed and own the complete rights to. Perhaps, the most straightforward way to create and own a monopoly is to advance science and technology from another dimension, and simply add in GPT-3 as a core technology to complement it. By leveraging other kinds of technology you've developed, you enhance your existing moat to prevent others from spinning up clones of your business and competing directly with you.

Patent your technology (sorry about this one)
I'm going to put this one out there, even though I don't fully support the nature of patent law like most of the individuals in the tech industry. I just wanted to briefly note that there are opportunities to patent your technology (outside of the GPT-3 part likely). Once you own that patent, it is effectively a monopoly on your idea and afterwards you could potentially sue your future competitors globally for infringing on your patent. This moat could potentially save you in the future, if you are anticipating intense competitive pressure. However, you are beholden this way to the patent office and court system, and it is possible for patents to overturned.

Don't tell people you're using GPT-3 at all
I already wrote a whole post about why I think it's bad idea to share that your application is powered by GPT-3, but I would actually add to my piece by including that if you wish to preserve your existing market share, it's probably not a good idea to publicly share that you're using GPT-3 as your core technology. Once you share the fact that you're using GPT-3 as your core technology, you risk inviting others to clone you and compete with you. Perhaps, the best way to ensure the survival of your GPT-3 monopoly is to simply not disclose you're using GPT-3 at all.

Appeal to Consumers' Psychology and Form 1:1 Relationships
Examples: Replika

Since machine learning and AI are improving so rapidly, it fundamentally changes business strategy as well. This is a new kind of technique I am proposing here, but the basic idea would be to use GPT-3 to form a long term, emotional relationship and connection with your users.

One example of this would be Replika - which is an app that tries to use an AI agent (based on GPT-3, I think) to get to know you and engage with you regularly. I suspect that as large-scale language transformer models improve, GPT-3 and the like will become better at emotional connection and retain more background discussions (ie. context) with users. In other words, they will become more effective at their conversational skills and better at engaging emotionally with customers.

By appealing to your customers' human empathy, need for social connection, need for emotional connection, and sense of reciprocity you might be able to discourage your users from switching over to somebody else because they will feel genuinely emotionally attached to your brand and AI agent. True brand loyalty. This one is just an idea though, a crazy one for sure.
Please don't get discouraged
It goes without saying … I don't think everyone should strive to create a monopoly or even pursue profits for that matter. GPT-3 is fun, and I don't think you should feel discouraged from trying something new either after reading this piece. Also, please don't take this piece as any kind of discouragement or naysaying on the viability of building GPT-3 based businesses. My only goal for this piece is to give you stuff to think about, so that maybe, just maybe, I may save you some time and suffering down the road. I sincerely wish you luck on any of your endeavours and of course, would love to see more startups built on top of GPT-3 so that we have our own ecosystem.
Closing Thoughts
So that's it. That's all I've got for now. But I want to be clear - this list is not exhaustive. As language models improve and more businesses are created, our understanding of business strategy and competition will evolve this decade. In fact, I think my list is very primitive compared to how much more we'll understand about AI-based business strategy by the year 2030. If you're interested in adding to my list or want to share your experiences, I'd love to connect. If you're even looking for help or feedback, I am also available. You can reach me directly at bakztfuture [at] gmail.com. Most importantly, I wish you lots of luck and want you to know that there are people like me rooting for you. Seriously - good luck!